LED light engine is sealed for outdoors

Just when you thought there were no unique selling points left in the world of LED light engines, Bridgelux releases a water-resistant series designed to future-proof outdoor luminaire manufacturing.
Called Outdoor Lighting Module (OLM), it integrates LEDs, optics and environmental protection in a package that can be screwed to a heatsink, and is designed to replace high-pressure sodium (HPS) lamps.
"High-pressure sodium lamps are highly efficient and prolific. We realised there is no equivalent LED that has that versatility," Bridgelux marketing director Todd Farmer told Electronics Weekly
Although others are planned, "right now, there is one sort of OLM platform. It comes in lots of different CCTs and CRIs, and various optical patterns from different optics", said Farmer.
Optical patterns are available to suit OLM to various applications: streetlight, parking lots, high bay, wall pack, canopy, tunnel and floodlights, listed Farmer, adding: "Luminaire makers can design a casting around the profile of this module, then they can proliferate across multiple segments with same casting or two castings."
Two castings?
"A single module (2,100-4,500 lm) can replace 50 or 70W HPS lamps. A casting with two modules can replace 150W HPS, and upwards. Also, you might have one casting for street and area lighting, and one casting for canopy," he explained.
The casting, or other luminaire structure, does not need to protect the OLM environmentally, only to provide a flat area for thermal contact and six threaded holes to accept module mounting screws – design services are available to luminaire makers needing help creating a suitable structure.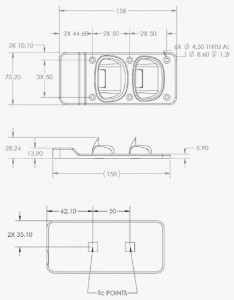 Heatsinking
Within the OLM, light comes from two of Bridgelux' Vero 10 chip-on-board (CoB) LED arrays. There is no long heat path – the rears of the actual CoBs project slightly from the back of the OLM and are pressed onto the heatsink surface by the mounting screws.
"One of the nicer parts, is that the back of each array is exposed out of rear of module so it can be managed exactly same way as two of our CoB modules," said Farmer. And if one side is screwed down before the other, "the housing has enough flexibility to ensure one side is not left high and dry."
Future-proofing
Farmer argues that luminaire makers that adopt single emitters are fighting a constant battle with the march of lighting LED efficiency. They need to offer products whose light output remains constant from year to year, while LEDs keep getting brighter.
"Improvements in the industry are constantly hurting luminaire makers," he said. "You have a system using 20 emitters. If in six months you only need 16, you have to re-tool – that's $30,000 – and you have to re-design the optics – that's another $30,000. You could keep buying weaker emitters, but somebody is launching new products every few months. They will have better lm/W, and you are 15-20 lm/W behind. It's really painful to have to use older technology."
In the OLM case, Bridgelux is committing to keep the same shape and size, and can reduce the number of die in the CoBs as die become more efficient.
Providing the luminaire maker is using a constant current power supply, they can swap to the fewer-die OLMs with no other changes and reap the lm/W improvements, said Farmer. "If we go from strings of 10 LEDs to strings of nine, the voltage range of the driver should be able to accommodate."
The two CoBs are connected in series. Operating current is nominally 350mA (53.4V 18.7W typ), with a maximum of 700mA recommended.
At 350mA 70°C, output from the 4,000K version is 2,086 lm and 112lm/W
Although it is not used in the first generation, within the package is space for electronics. According to Farmer: "The road map has high-performance versions, and integrated intelligence, and drivers."
In its literature, Bridgelux is pitching a 4,272 lm OLM (700mA 40.4W 5,000K 70CRI) against a 7,000 lm HPS (87W, 2,100K, 45CRI).
How does it justify the OLM emitting only 60% of the HPS flux.
"For roadway luminaires, and many exterior and industrial applications, the lighting patterns are often determined by regulating bodies and the achievement of these patterns is engineered with secondary optics," Bridgelux told Electronics Weekly. "The directional nature of LEDs allows high coefficient of utilisation – the amount of light created by the lighting source that is used in the required lighting pattern. High pressure sodium, and other tube technologies, have low coefficient of utilisation due to their inherent fully radiant light nature. In order to achieve equivalent lighting patterns on the required surface, LED luminaires only require 50-60% of the initial lumens of an HPS system."
Will there be a second source?
"Zarga is working on some stuff and we are embracing those conversations," said Farmer.
Originally published on March 26th by Steve Bush on ElectronicsWeekly.com